Integrating Aspects of Human Life
The Word 'AYUR' literally means life and 'VEDA' means Knowledge. In other words, Ayurveda is an age old system of medicine developed by the sages of yore. Ayurveda recommends the means of prevention and treatment of various illness as well as the preservation of health. The very fact that it still remains a vital health-care system shows its viability and inherent strength. Ayurveda views man and nature as complementary elements. When the three functional forces 'vata', 'kapa' and 'pitha' in the human body are disturbed, diseases are caused.
Ayurveda is a system of natural healing that originated in India some 5000 years ago in which the body and mind are seen as interplay of five great elements (space, air, water, earth, fire) which pervade the universe. Ayurveda helps to integrate these elements in harmony which creates equilibrium of physical health, mental clarity and emotional happiness. Disharmony gives rise to disease and disorder.
Most Trusted Ayurvedic Wellness Centre
Since last 18 years, Ayurvedic Village has been serving the global community with its authentic practices and enhancing positivity in every individual at the Sanpada, Mumbai Centre. This has earned us a worldwide reputation for our effective special treatments.
The core focus of our Ayurvedic Therapies is the treatment of various illnesses, as well as maintaining good health in the long term. All the treatments take place under the supervision of qualified doctors and well-trained therapists in hygienically maintained environs. Our herbal garden have a variety of medicinal plants and herbs that provides as ingredients for Ayurvedic medicines made at the centre as well as in-house preparations for treatments.
Our New Centre
At Morbe, just 8 km of Panvel, discover a life which is green, serene and luxurious, a life near to the city yet much closer to peace. Tucked in a luxurious setting with top of line treatment, every moment you spend at Ayurvedic Village has its own reason to be happy. This happiness is reciprocated in every mind, body and soul that comes here. It's a peaceful Ayurvedic Retreat where life enjoys a never ending holiday
Age old Ayurvedic Massage Techniques
63 acres of breathtaking landscaped area
Use of wonderful secret herbal ingredients
Well Experienced and Certified doctors
Famous Yoga Experts
Luxurious Accommodation
Superior Food
Contact Us
Agni-Ayurvedic Village
E-Brochure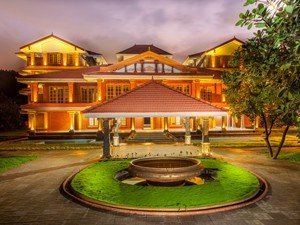 Morbe Village, Panvel Taluka,
Off Panvel - Matheran Road,
District Raigad, Maharashtra.