Ayurgriha :: Ayurvedic Treatment Centre
For the people residing within the city limit and do not require to get admitted for treatment, head for 'Ayurgriha', our rejuvenation centres at Vashi and Panvel (Mumbai), in search of relaxation, health, beauty and fitness that leads all in the sheer variety of health centre. Traditional Kerala Ayurvedic treatment for men and women is bound to revitalize body with renewed vigour & freshness to bring back lost energy. Considering the fact that one wishing to have Ayurvedic treatment will opt for Ayurgriha centres that is unique in services
Specialization at Ayurgriha
Ayurgriha offers comprehensive package of famous Panchakarma therapies (5 therapies) and some of the sub-therapies. This is recommended for diseases such as Paralysis, Arthritis, Rheumatism, skin disease and mental disorders.
Panchakarma treatment is also effective in cases of sub-fertility and impotence. Perfected by generations of practitioners. At Ayurgriha, doctor assess your health fitness and explain the need for the specific treatment. Based on the doctor's advice, our skilled and experienced therapists conducts the massage treatment. Massage treatment forms a mandatory part of all types of purification procedures. Neurological diseases are special indication for different types of Ayurvedic massages and fomentation methods.
Ayurgriha- Specializing in Ashtang Ayurveda
Ayurgriha specializes in eight branches of Ayurveda, also known as Asthange Ayurveda.
Kaya Chikitsa - General medicine
Balroga - Paediatrics
Agada Tantra - Toxicology
Bhutvidya - Psychiatry and psycho somatic diseases
Shalakya Tantra - Diseases of eye, ear, head, nose, throat and its surgery
Shalya Tantra - General surgery
Rasayana chikitsa - Rejuvenation therapy
Vajeekarana chikitsa -Aphrodisiac therapy
Contact Us
Agni-Ayurvedic Village
E-Brochure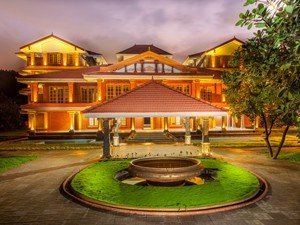 Morbe Village, Panvel Taluka,
Off Panvel - Matheran Road,
District Raigad, Maharashtra.