Weight Loss Treatment
Ayurvedic Village offers a unique Ayurvedic Weight Loss Program at their luxury weight loss retreat center in India. Our special Ayurvedic diet and natural weight management techniques will help eliminate excess fat, reducing weight without the need for exercise and dietary restrictions. Herbal oil massage, Ayurvedic Medicine and diet help our guests attain deep relaxation and wellbeing, Ayurvedic Treatments for Weight loss is good for obesity. It reduce the fat and feel relax.
Weight loss & Obesity Reduction Yoga
Our Weight Loss Treatment combines the best Ayurveda therapy with weight loss Yoga and Meditation. Special asanas are given to each individual to practice every day. Remarkable difference can be seen if all the therapies and recommendations are followed. Yoga practice can range from 1-4 hours per day. Yoga & Mediation is highly recommended but not compulsory. Meditation strengthens your mind and helps you in keeping your resolve in losing weight.
Ayurvedic Treatment for Weight Loss
Our Special Ayurvedic treatment for Weight loss massage assists the process of weight loss by countering flabbiness and toning the muscles, as well as removing cellulite. During massage herbal oils penetrate the layers of the skin, nourishing the whole body system and liquefying toxins, so that they can be easily expelled. The effect of Ayurvedic nutrients in the oil is said to extend deeply to the tissue cells, bones and even the nervous system, due to a gentle, natural penetration. This intensely relaxing process tones and imparts luster to the skin, smooth out away Wrinkles, countering cellulite and giving our guests a vibrant glowing complexion.
Contact Us
Agni-Ayurvedic Village
E-Brochure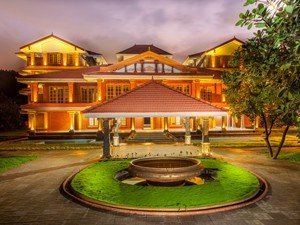 Morbe Village, Panvel Taluka,
Off Panvel - Matheran Road,
District Raigad, Maharashtra.